*Off white band w/off white hand sewn lace flower. Love it because the flower looks a lot like a Gardenia. There is nothing like the smell of Gardenias floating in a warm summer breeze.$15
*So sweet Cream headband w/ light pink button detail and light pink tulle with silver and pink sequined Hello Kitty w/white ties. We love Hello Kitty and also offer other colors for custom order. $18
*Cream headband with nude tulle rosette with lots and lots of pearl bead detail in white and off white. White button detail and white ties. Very elegant. $30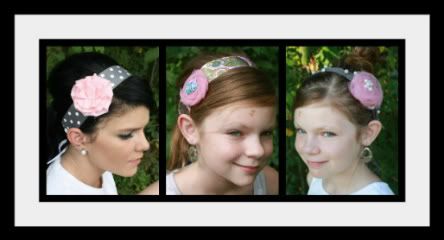 *Grey polka dots w/baby pink flower ribbon! This is one of our favorite color combination. Contact us to customize a headband for you in your favorite colors $20
*This one is already spoken for but we wanted to put a picture up anyway. Pink satin paisley print ribbon w/pink tulle and w/blue and pink Hello Kitty. Finished off with white button and blue giraffe ties. We love Hello Kitty and also offer other colors for you to choose from.
Custom made for Lacey by Brooke.
*Another personal favorite. Pink tulle rosette w/pearl bead center, charcoal gray headband with pearl bead all over. Tattered torn look in the back. $25
*Simple. Elegant. Royal blue ribbon with rhinestone design $12
*Black headband with black and gold ribbon flower button detail and a cute gold leaf to top it off. Black and gold button detail and black w/gold fluer de lis ties. This one screams Go Saints. Contact us for other team custom orders. $25
This item is also already spoken for.
*Double ribbon headband in white with black print. Teal button details and print ribbon ties $16
*One of our personal favorite multi colored print headband, pink rosettes with pearl bead center, teal ties with teal button detail $22
*Red satin ribbon w/triple hand sewn ribbon flower design in black, off white and red. Finished off with white buttons and red ties. We think this is perfect for a girls night in your LBD $22
*Cream & chocolate brown print. 3 hand sewn ribbon flower design in chocolate brown, off white and teal w/ button detail and white ties. Perfect for fall $22
Contact us at maxsparrowdesigns@gmail.com for any questions or order.
We'd love to make a headband especially for you or your little pryncesses!
If you get tired of seeing Brooke and her daughter modeling all the headbands you are more than welcome to come model a few for us. The pay is not great and by not great we mean there is no pay, but every headband you model for us you get to name and credit for the name will go to you on all sites we are on.